09/16/2020
Postdoc Natalie Boehnke's publication on functionalization of liposomes with peptide motifs was featured on the cover of Bioconjugate Chemistry.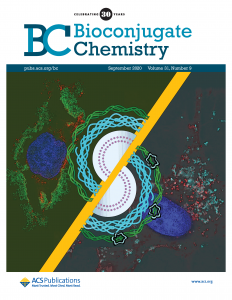 ---
08/04/2020
Congratulations to Hammond Lab Chemical Engineering graduate student Jonathan Chou on successfully defending his PhD thesis.
---
07/16/2020
Congratulations to Hammond Lab Chemical Engineering graduate student Antonio (Tony) Barberio on successfully defending his PhD thesis.
---
05/27/2020
Posdoc Apoorv Shanker awarded the Mazumdar-Shaw fellowship
Congratulations to Hammond Lab postdoc Apoorv Shanker, who won the MIT Koch Institute Mazumdar-Shaw International Oncology Fellowship for his project entitled "Temporally-controlled Layer-by-Layer Delivery of Immune-Modulators for Combination Immunotherapy."
---
05/06/2020
Postdoc Sean Smith awarded an NIH F32 award
Congratulations to Hammond Lab postdoc Sean Smith, who was awarded an NIH NCI F32 award entitled "Layer-by-Layer Nanoparticles for Combination Cytokine Immunotherapy of Ovarian Cancer."
---
05/01/2020
Hammond Lab develops a set of lab values document
The Hammond Lab has developed a lab values document that is now accessible via our website.

---
04/30/2020
Graduate student Adam Berger wins HST community award
Congratulations to Hammond Lab graduate student Adam Berger, who won the Harvard-MIT Health Sciences and Technology (HST) Roger G. Mark service award.
---
03/08/2020
Paula Hammond featured as a 2020 C&EN Trailblazer
Paula Hammond was honored as one of the women profiled in C&EN's 2020 Trailblazers.
---
01/30/2020
Hammond Lab Publication in Angewandte Chemie International Edition Featured on the Cover
A recent publication on theranostic layer-by-layer nanoparticles from postdoc Natalie Boehnke, alum Santi Correa, and collaborator Liang Hao (Bhatia lab) was featured on the cover of Angewandte Chemie International Edition. Special thanks to postdoc Joelle Straehla's husband, Chris, for help with the graphic design.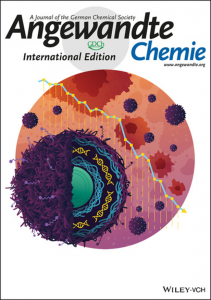 ---
11/10/2019
Paula Hammond Honored with Dr. Margaret Hutchinson Rousseau Award at AIChE Fall Conference
Paula Hammond honored with award for significant contributions to chemical engineering research over her career. This award honors the memory of Dr. Rousseau, the first woman to earn a PhD in Chemical Engineering from MIT and the first woman member of AIChE.
---
10/24/2019
Cheddar Live Interview for LBL Microneedle Research in Hammond Lab
Paula Hammond and graduate student Yanpu He were interviewed by Cheddar to talk about their amazing work towards using LBL Microneedles to treat skin cancer.
---
10/3/2019
Paula Hammond recognized as a strong mentor by Committed to Caring (C2C)
Paula was honored for her commitment to diversity and inclusion in the Chemical Engineering department as well as her excellence in actively listening to students to help them succeed in their programs.
---
8/25/2019
Hammond Lab microneedle research featured in the news 
This research investigates quick and pain-free delivery of vaccines and medications on a microneedle patch
---
7/02/2019
Hammond lab alum, Professor Anita Shukla, has received the highly prestigious Presidential Early Career Award for Scientists and Engineers (PECASE)
Congratulations, Anita!
---
6/23/2019
New article featured on the cover of BioTM
This work describes progress in layer-by-layer nanoparticles for targeting ovarian cancer
---
5/1/2019
Paula Hammond elected to the National Academy of Sciences for 2019
---
3/20/2019
Paula Hammond discusses discovery and diversity on C&EN
Chemical engineer Paula T. Hammond on discovery and diversity.